Cloud technology transforms your business experience
Rapid change is upon us. In such an environment, cloud services are essential. For cost reduction, adaptability, scalability, risk mitigation and transformation potential, businesses cannot be tied to an inflexible, overly expensive solution. They need flexible, enterprise-grade systems at reduced costs, paying only for what they use. What is more, customers of organisations increasingly expect the integrated, coherent brand experience a cloud service enables.
Why AWS?
AWS is the global leader in cloud services. It has an enviable reputation not just for innovation and sophisticated applications, but also for reliability, affordability, almost infinite scalability and for cost-effective backup, storage, content delivery and disaster recovery options.
AWS is IRAP certified and meets Australian Privacy Act standards. With AWS, new IT resources, including fully integrated artificial intelligence, are just a click away. It offers a dramatic increase in agility and adaptability of business operations, essentials in these unprecedented times
Why F1 Solutions for AWS?
As an AWS Select Consulting Partner, F1 Solutions professionally manages every step of the process, from engagement and discovery, to cloud readiness and assessment, solution architecture and to migration and management/ maintenance of the solution itself.
We reduce risk and cost at once, whilst improving performance and creating opportunity. Most importantly, we begin with the 'why' before designing, developing and implementing a cloud solution unique to you.
The result is cloud solution architecture developed by F1 Solutions' AWS thought leaders that can scale, adapt more quickly and transform the employee and customer experience.
How F1 Solutions will deliver AWS for you?
Manage an engagement and discovery process that increases organisational understanding of the benefits of doing business in the cloud and addresses any concerns from within the organisation.
Conduct a cloud-readiness assessment, reporting back on how particular challenges will be addressed and risks mitigated.
Design and architect a custom solution that not only integrates all of the organisation's existing systems and apps, but that also compares AWS run costs with your existing operating model.
Demonstrate substantial return on investment, including productivity gains, the ability to utilise integrated data from previously disjointed systems to develop a deeper understanding of the business, its customers and market trends, and reduction in maintenance hours.
Highlight applications on the AWS platform that will help the business identify new opportunities.
Manage a quick and effective migration, maintaining your legacy environment until migration is complete.
Manage and maintain the cloud solution, implementing improvements and updates as the organisation grows and the market changes.
Success through cloud enabled scalability
F1 Solutions invested heavily in servers and hardware to support our own SaaS and software development operations, particularly for our OmniStar solution. As costs and the required resources to manage those platforms increased, we revisited our server, hardware and hosting strategy. The result was a cost-neutral but highly advanced move to the AWS cloud platform that achieved significant results. Most notably, migrating from a previous, constrained environment to the cloud enabled scalability, availability and disaster recovery at a level that wasn't previously possible. The solution provided F1 Solutions with a number of benefits, including:
Faster scaling of applications to cope with spikes in application usage
Increased flexibility by providing options to integrate with existing customers' legacy systems using SQS, SNS and S3
Greater return on investment by providing increased services and capabilities at the same cost as a traditional, data-centre hosting approach
Increased compliance with ISM and ASD guidelines
Reduced maintenance and administrative overhead
Moving out: How is a migration planned?
Every migration plan is customised. F1 Solutions' specialist AWS solution architects and engineers help identify which strategy will work best for segments of your on-premises environment. These strategies range from automated lifting and shifting to changing the way an application is architected, and to moving to new, cloud-native solutions. We also re-engineer apps that are not cloud ready, to prepare them for migration and enhance integration.
Our approach, split over five specific processes, informs decisions, helps measure progress against milestones and ensures whole-of-organisation engagement with, and understanding of, the benefits and requirements of the move to cloud.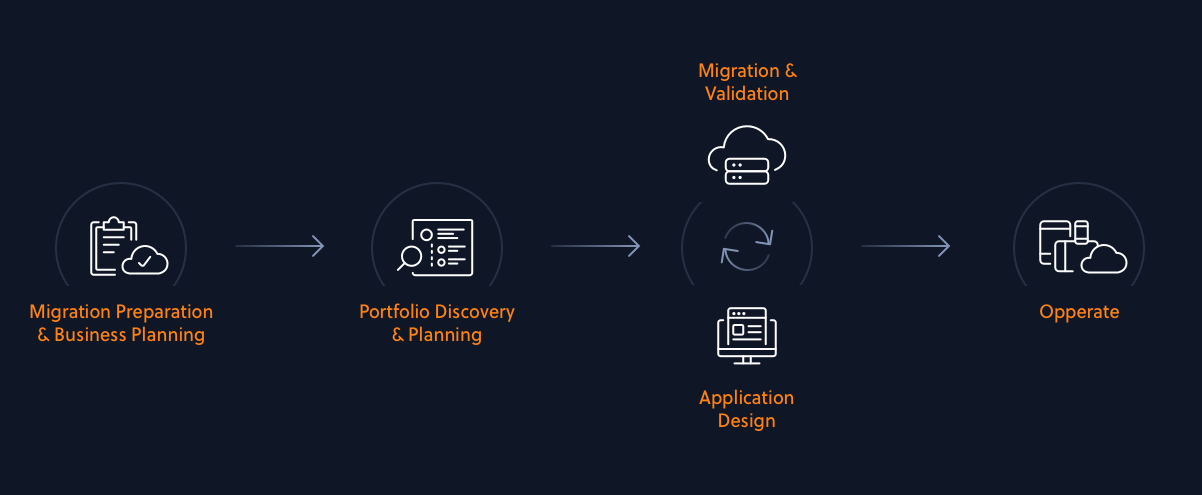 Cloud: Enabler of success
Talk to us about boosting your business performance, increasing resilience and enabling adaptability with a powerful cloud solution.
Readiness assessment
Existing systems must be enabled for cloud, organisational concerns addressed and internal barriers removed. F1 Solutions assesses what is necessary before creating a roadmap to AWS success.
Design and architecture
Our architects and engineers custom design a solution to fit your operation's current requirements and, more importantly, to create potential for innovation, growth and change.
Cloud migration
After building and stress testing the infrastructure, always focussing on agility, security, scale and adaptability, we ensure legacy systems remain fully operational during migration.
Cloud security
Security comes not just from a carefully architected cloud solution with strict access controls around data, but also from best-in-class security features, improved organisational processes and AWS's renowned compliance enablers.
Cost optimisation
A new cloud build allows us to maximise the value you receive from your cloud service. You only pay for what you use, so whether you scale up or down, you'll always know the cost.
Cloud education
While the learning curve around the transition to cloud is typically not a steep one, we can manage all training and upskilling requirements.
Move to AWS today
The AWS cloud brings many advantages to organisations looking for a competitive edge in a challenging market.